Double Bevel Sharpening

In the late 1970's I developed a sharpening
system that would allow me to use Japanese
polishing stones. I had seen a demonstration of
planing wood to a finished surface by a
Japanese woodworker, and had bought one of
the 8000 grit polishing stones to see if I could
replicate his remarkable results with an
American plane.

The stone was so soft, of necessity, that I was
gouging divots out of it when I tried sharpening
free-hand in my usual way. When I could avoid
hacking it up, I was getting the sharpest edges I
had ever seen, but it was clear that I needed
some kind of a honing guide.

So I tried all the guides then available, and
settled on the General #810. Todd Taggart, now
of Allied Lutherie, encouraged me to write up a
booklet on the system, and I published the first
edition of Double Bevel Sharpening in 1995.
It's now in its third edition, completely revised
and up-dated.

Not long after the first edition was published,
the #810 honing guide went out of production,
and I decided to see if I could design an
improvement on it. The result is the guide in the
photographs. I'm now producing the stone box as
well, and the booklet, guide, and stone box are
all available from me directly, as well as
Luthiers Mercantile International and The Japan
Woodworker. Scroll down to see prices and
ordering info.

As a professional luthier, I need to sharpen my
tools quickly, accurately, and to a wide range of
angles. Once I had experienced using a tool
sharpened on a Japanese polishing stone, there
was no going back.

I've been using this system for almost thirty
years now, and it's the best one I've seen yet. If
you find a better one, tell me about it, and I'll
switch (:->)...
________________

To order the Honing Guide Kit ($95),
the Stone Box ($79), or, Double Bevel
Sharpening ($12) directly from me, call
my toll free number:

866-214-9472

Or email me at burnsguitar@yahoo.com

I accept personal checks, or I can send
you a PayPal request for funds, and
you can pay with a credit card.

I guarantee your satisfaction with
everything that I sell.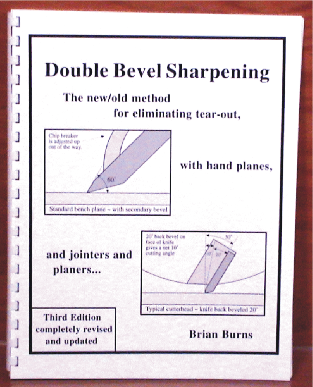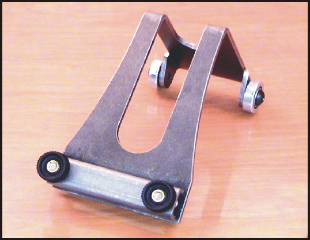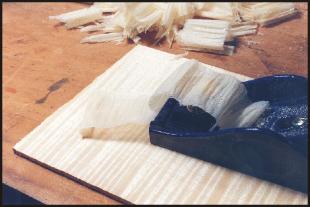 Planing a curly maple guitar side
without tear-out, using the double
bevel system. It's not just the
sharpness; it's the angle too. Click to
enlarge this one.

The highly polished bevel on this chisel reflects the image of a bit of back inlay.
This is the level of polish you get with the 8000 grit Japanese polishing stones.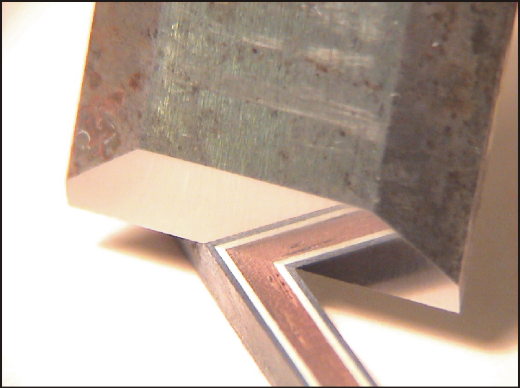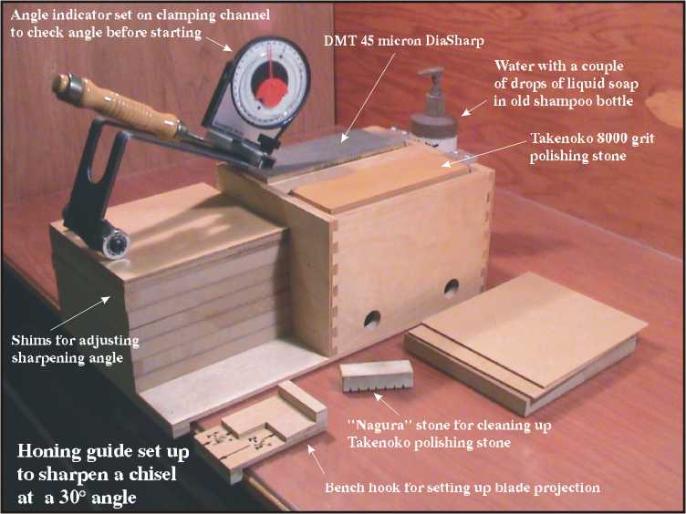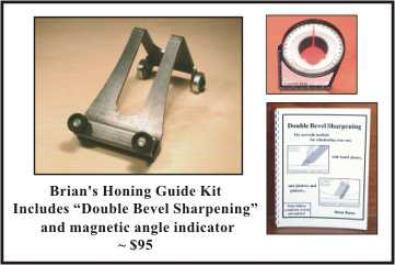 Scroll down for prices and
ordering information